Our Services
Timber Sales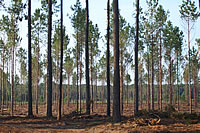 We handle all the details of a timber sale for landowners. Starting with pre-harvest planning, we work with landowners to insure their timber harvest meets their needs and goals be they wildlife habitat improvement, generating revenue, or thinning to increase timber growth and improve forest health. We will lay out the sale on the ground, create a harvest map showing location of sale and timber to be harvested, send out bid invitations or negotiate with select wood buyers, monitor the sale as harvesting progresses to insure the correct timber is harvested and merchandised for maximum benefit to the landowner, and handled stumpage payments and insure the accuracy of timber settlements.
Timber Cruising
We will cruise your timber to determine the volume and type of standing timber on your property as well as create estimates of the value of standing timber based on current average stumpage prices for this region. We can also take measurements to determine age, site index, stocking, and growth rate of standing timber.
Management Plans
The management plan is an invaluable tool for forest landowners. It is a written document that outlines the goals and objectives of the landowner and details steps to achieve these goals both stand by stand and for the whole tract. The most basic management plan would include a location map, aerial photo, stand map, landowner's goals, and recommendations for achieving those goals. All management plans require at least one site visit. More thorough management plans may include information on volume and value of standing timber as derived from a timber cruise, site index data, timber growth rate and information on wildlife species found on the tract among other things.
GIS
Using aerial photos, GPS technology, and on-the-ground observations we can create very simple GIS maps and databases as well as very complex ones showing all the geographical, man made, and physical features of the subject property as well as graphical representations of timber volume, value and stocking.
Land Management
In our quest to provide a one-stop-shop for landowners, we offer many land management services for landowners, some of which are listed below.
Property Lines
Oversee and arrange the surveying of property boundaries as well as the chopping, painting, and posting of property lines.
Firelines/Roads
Oversee and arrange the installation and maintenance of firelines and roads.
Wildlife/Hunting
Oversee and arrange for the placement and construction of food plots and wildlife openings.